The new glass house. Come in, the house is yours.
ABRAVIDRO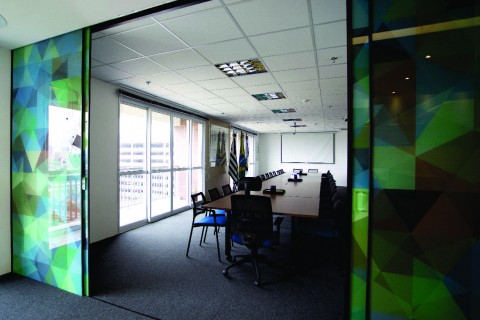 The Brazilian Association of Flat Glass Distributors and Processors is a non-profit entity that brings together companies from the glass sector all over the country and unions and regional associations as well.
Founded in 1990, they work for the development of the Brazilian glass industry and they monitor the evolution of the material and its use in the construction, automobile, furniture and decoration areas.
The New Office – Applied technology -  V.E.S. 10 System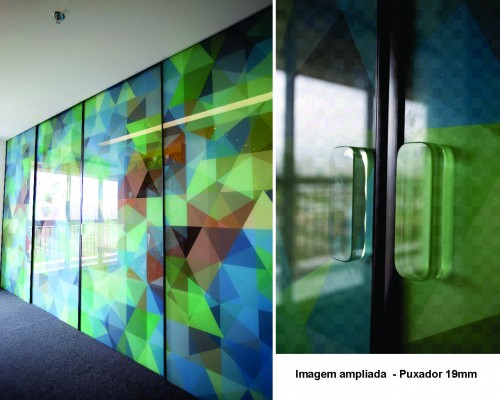 We are grateful for the partnership with Atenua Som and for having the opportunity to participate in this project. We installed a partition with four glass sheets, two fixed at the ends and two movable in the center. The Cebrace's Diamant (extra clear) glass pieces (1,20 height and 2,60  width) were tempered (10 mm thick) and received a Speed Temper digital print by  Israeli Dip-Tech technology.
To ensure the installation's perfect acoustic performance, Avec Design encapsulated the glass pieces: they received silicone profiles at their edges, allowing perfect coupling. In addition, the door tracks and guides were floor to ceiling built-in. The pulls are made of extra clear glass (19mm) and the system fixation by UV glue.
Learn more about the system: http://www.avec.com.br/en/products-and-works/doors-windows-ves/
Or contact us: +55 (11) 4422-4722
E-mail: comercial@avec.com.br 
Benefits of the product:
Controlled Interactions with the External Environment  |  Transparency and Beauty  |  Increased Property Value   |   The Use of Selective Glass  |  Light Control  |  Thermo Comfort   |  Acoustic Comfort   |  Incomparable Durability   |  Absence of Maintenance  |  Protection of the Glass and Reduced Necessity of Cleaning   |  Tightness   |   Sustainability   |  Absolute Security
Check out our projects:
http://www.avec.com.br/en/see-all-the-projects/