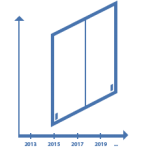 All of the materials we use (glass, silicone, silicone gaskets, steel, etc.) have very long and durable life cycles.
The silicone, in turn, is the only inorganic elastomer. The other types of rubber originate from latex and petroleum, which are chemically based from carbon. In addition, silicone is immune to U.V. rays and has been proven to be extremely durable in all weather conditions.
According to the study performed by Kinner Silicone, at normal temperature the estimated life is indefinite, and it can operate effectively and above expectations for centuries.
Fonte: Kinner Silicone